NEVSEREMOS'!
Батьківщина - не територія, а сума подвигів і звершень
Support note
:
In most cases support requests concern some not obvious or special situations. So to solve most of problems either Joomla superadmin access or akeebabackup of your web-site is needed. Please, be ready to provide it so it's possible to debug your problem at a localhost.
Compatibility
:
NotifyArticleSubmit - get email notification when an article is added or changed
NotifyArticleSubmit is renamed into NotificationAry. This page and files are not supported. Use NotificationAry instead.
The extension sends emails when someone adds/modifies an article at your Joomla web-site. Sending of emails can be restricted by categories, article ids, user groups, particular users. You can turn off email sending for modification done by a patticular user or user groups i.e. when you trust other superadmins. Or vice versa, enable notification only for particular articles, users or user groups, i.e. you want to track only changes done by someone or in a category.
The email may optionally contain author/modifier name, date, article title, intro and/or full text overview (HTML is converted to plain text). Custom mailbody is not possible yet.
The email may contain links to view articles and to edit articles (one must be logged in to follow such links successfully).
See example:
When is it needed?
Here are some situation when NotifyArticleSubmit can be usefull

You are a web-site creator and your clients manage articles themselves at a web-site created by you. Very often clients make many mistakes till they learn like giving wrong titles, assigning to wrong sections and so on. So you may want to controll what they add to correct them in time. Each time an article is added you are informed via email and may check it.
You allow users to add articles from frontend and want to be informed (or inform your stuff), when someone adds an article.
You want to inform a certain group of users or all users about new articles published at your web-site (be carefull of mass mailing issues in this case).
Installation
Install the extensions like a regular joomla extension.
NotifyArticleSubmit is a plugin, so don't forget to publish it.
Upgrade
Uninstallation of previous version is not needed. Just install the newer version.
Joomla 1.5 installation note for Joomfish compatibility
When installing the extension file administrator/components/com_joomfish/contentelements/plugins.xml is overwwritten if exists. I give 99.9%, that it doesn't as I have never meet any other plugin needed to be translated. But if it exists before ther installation of NotifyArticleSubmit you must combine the existing one with the file from the install package. When uninstalling the file is also removed. Preserve it if it's really needed. But again, 99.9% that you don't have to care about it.
Joomla 1.5 uninstall
NotifyArticleSubmit is installed usign a special component, which purpose is to prefom some operation while installing and uninstalling the plugin. So to uninstall the plugin you must uninstalle not plugin NotifyArticleSubmit, but component NotifyArticleSubmit.
Settings
By default plugin sends messages to all superadmins on any article change (add/update/publish/unpublish).
The settings are divided into three groups. The smallest one is the General group, which has 2-3 settings depending on joomla version.
Next two groups are For regular users and For admin users.
These groups are mostly logical ones. The only difference for the Admin groups is a bunch of settings for current article modifier and article author - wether to inform and in which way.
The purpose of these two logical groups is to let you set separate rules for users and groups of users whish you decide to be admin users and regular users. Too complicated.
Here is an example. Let's imagine you want all registred users to receive notifications when an article is published,
but all superadmins to be informed on any changes (add/modify/publish/unpublish).
Remember, that Admin user settings have higher priority then Regular user settings. This means, that is a group of users is set to receive mails in both these logical groups, the it will receive mail only as Admin users.
Section of settings Notify on actions performed by users is worth of additions description.
It is useful i.e. if you want to be informed on changes done by Managers only as you don't trust them very much. But you trust other user groups so you don't need to be inform when they make changes.
You may also add emails to receive or to never receive notifications (even if this email is a superamin's email). But I believe it's a useless feature as you can exclude/include users by userid.
All other options seem to me to be self explained, but my opinion is not objective (-: Post requests for additional descriptions here in comments.
Tips
Let imagine that you have 10 categories and need to have different notification rules for each category. Core plugin allows to have 2 separate groups (see above). So you may install clone plugins at the plugin settings page (In earlier versions the clones had to be downloaded from here: http://gruz.org.ua/images/stories/files/notifyarticlesubmit/clones/) and have as many separate rules as you want by making different settings in each clone. The logic is very similar to have multiple instances of the same module, but Joomla doesn't allow to copy plugins like modules.
Possible problems
The extensions is rather complicated and it's very hard for me (one person) to check all possible combinations of settings. So there can be some "logical forks. If you meet some problems with understanding the settings or believe something works not as expected, please post comments to inform me. Describe your problem as widely as possible.
Joomla 1.5 limitation
NotifyArticleSubmit doesn't send emails when (un)publishing articles from article list(not when editing article). Alas, Joomla 1.5 doesn't have system events, which are fired in this case.
Joomla 1.5 and Joomfish
NotifyArticleSubmit sends notification emails while editing different language articles from fronted. But it doesn't send emails when editing translations from Joomfish backend. Alas Joomfish doesn't fire Joomla content events when editing translations from backend, so NotifyArticleSubmit cannot determine when an article was edited in such a way. So if you badly need to have notifications with Joomfish you must edit translations only from frontend. Alas...
NotifyArticleSubmit may have different settings for different languages. You can translate the plugin settings like you can translate any module settings using Joomfish.
I.e. you may want to set Publishers not to be informed when changes are made in a non-main language. So you may choose settings per language.
But! Joomfish doesn't allow to translate plugins in a good way. So to translate Plugin settings visit Joomfish translation section:
And edit the settings, which look like a set of lines:
Alas there is not way to present the settings in a better way while translating via JoomFish.
What it does not do
Currently it doesn't handle other actions except Publish and Unpublish. This means that Archiving and Trashing articles are not handled by the plugin. But is it really needed?
Users cannot subscribe/unsubscribe themselves
How can I help?
\
\
donate (please! :-)
\
report bugs with detailed info (optionally provide akeebabacked copy of the web-site so I can test at my localhost)
\
give nicely described ideas
\
help with translations
\
suggest better settings organization
Thanks
The plugin was originally developed by IWT and Vijay Wadnere. The base code of the plugin is taken from here: http://forum.joomla.org
Feature Requests/TODO
The extension is delivered together with all available languages at the release time. Translations, added or updated later, can be found here as installable packages. Language updates are available over normal Joomla extensions update feature.
Please, help with translation to your language! Just register here https://webtranslateit.com/en/projects/2680-NotifyArticleSubmit/invitation_request and translate. The installable language packages are generated every hour.
The latest released version contains such language translations:
Currenty available languages (translations may be updated since last extension release)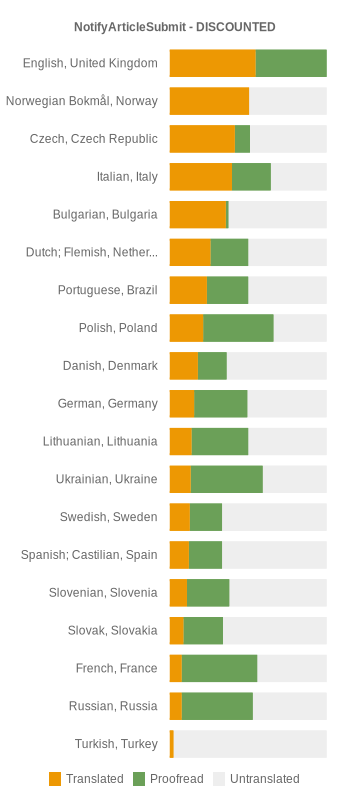 Download latest version for J1.5 (unsupported)
---