NEVSEREMOS'!
В своїй переоцінці вартостей ... почали звати трусість - гуманністю, мужність - жорстокістю, відвагу - забіяцтвом, стоїцизм - монахоманією, невблаганність у поборюванні зла - ексклюзивністю, прислужництво - реалізмом, вірність ідеї - фанатизмом, безпринципність - об'єктивністю, нерішучість - розважністю, отарність - солідарністю, буденну працю - героїзмом, героїзм - авантюрництвом і романтикою, вірність засадам - доктринерством, хамелеонство - швидким розумом, дряблість - шляхетністю, безформність - красою, хохлацьку хитрість - державною мудрістю. Дмитро Донцов

Support note
:
In most cases support requests concern some not obvious or special situations. So to solve most of problems either Joomla superadmin access or akeebabackup of your web-site is needed. Please, be ready to provide it so it's possible to debug your problem at a localhost.
Compatibility
:
VirtueMart 2.x Categories accordion menu, full depth

Features
Not limited category depth
Accordion mouseover and click behavior
Fully customizable
It's possible to show all VirtueMart categories or to select a parent to show only it's children
Demo: http://demo.gruz.org.ua/index.php/virtuemart/category-strucrure
Settings
Most settings are self-explaining. If you meet some problems with understanding the settings, please ask me.
What it does not do
At least now you can not limit the depth of the categories to be shown.
The extension is delivered together with all available languages at the release time. Translations, added or updated later, can be found here as installable packages. Language updates are available over normal Joomla extensions update feature.
Please, help with translation to your language! Just register here https://webtranslateit.com/en/projects/4130-VirtueMart-2-accordion-menu/project_locales and translate. The installable language packages are generated every hour.
The latest released version contains such language translations:
Currenty available languages (translations may be updated since last extension release)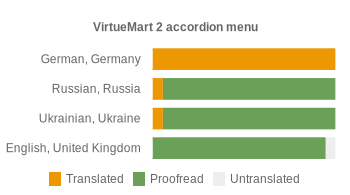 ---